Core Values and Beliefs
What's our priorities at Paramount Industries and our MBA members? Somewhere along the line, we've become convinced that the key to creating a truly great organization is an intense focus on the values that guide its people's actions. These are our "Core Values and Beliefs". If we or any of our MBA members don't seem to be living up to them, call us on it! We aim to be a valued service to all our clients seeking the best deals in machinery and capital equipment.
We respect the individual, and believe that individuals who are treated with respect and given responsibility respond by giving their best.
We require complete honesty and integrity in everything we do.
We make commitments with care, and then live up to them. In all things, we do what we say we are going to do.
Work is an important part of life, and it should be fun. Being a good business person does not mean being stuffy and boring.
We are frugal. We guard and conserve the company's resources with at least the same vigilance that we would use to guard and conserve our own personal resources.
We insist on giving our best effort in everything we undertake. Furthermore, we see a huge difference between "good mistakes" (best effort, bad result) and "bad mistakes" (sloppiness or lack of effort).
Clarity in understanding our mission, our goals, and what we expect from each other is critical to our success. Full disclosure leads to understanding and eases the burden of buying and selling capital equipment.
We are believers in the Golden Rule. In all our dealings we will strive to be friendly and courteous, as well as fair and compassionate.
MBA members and Paramounts' staff encourages all our employees to go one step further when actively sharing their knowledge with clients. They need to emphasize integrity in all their actions and dealings with the buying public.
We feel a sense of urgency on any matters related to our customers. They assure our future and growth.
We own problems and we are always responsive. We are customer driven. This is our commitment to growth.
our CEO if we aren't living up to our pledge !!

Sample MBA members web site listing show below

O'toole Press Inc. is a MBA member and long time sales partner with Paramount Industries owner. Tommy O'toole has been brokering heavy punch presses and other automotice industry industrial gear for over 25 years from his St Clair Shores office. He's very knowedgeable in all facits of buying and selling used product plant equipment. They offer complete listings on a large variety of presses and act as a specialty location for industrail equipment with their quote request service... http://www.otoolepress.com/request.html Give Tommy O'toole Inc a call ...Toll Free#: 888-417-7377 or Office # 586-498-7070 and Fax: 586-498-8726.... WWW.Otoolepress.com or send emails to email address: presses@otoolepress.com

Quick Sitemap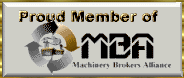 all rights reserved by Paramount Industries -08/21/12

site designs by webmaster Image Marketing Services