The "Machine Brokers Alliance" was created in order to help the thousands of hard working industrial equipment brokers and distributors a way to share machinery sales listings and communicate through Internet technology. We seek to streamline the multitude of questions all buyers have regarding capital equipment purchases. This site is dedicated to serving both buyers and sellers in making intelligent choices. MBA membership has it's privileges and is well worth the low annual dues of $100.00. Our members only private site features many types of online communication and marketing programs to save you time any smooth the process of brokering or buying equipment for resale. Mostly we are devoted to quickly moving your excess or brokers equipment.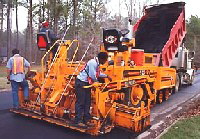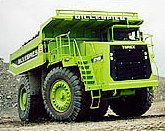 The MBA will monitor and endeavor to arbitrate complaints from dissatisfied customers through the proper industry channels. We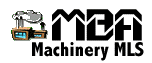 consider conducting business at this site in such a manner that we become the Internet's most trusted source for machinery purchasing. We are the "MLS" of the machinery industry. All members are required to adhere to our core values pledge, and follow "best business practices" beneficial to our customers and fellow alliance members.
The machinery purchaser seeks- up front... the pricing, specifications, production capabilities and condition of the equipment and all costs associated with taking delivery. Buyers can trust purchasing from premier listings at this site posted by a MBA member or affiliate who caters directly to your needs. We also have setup tools for members to effectively communicate to worldwide buyers & sellers and other members in real time and in 33 languages. Members use our simple "web tools" to create searchable listings and are offered discounts on computers, E-cataloging software and custom designed premier Ads.


Brokers and machinery distributors -unite- worldwide !!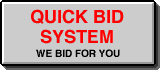 Don't let these 2 Straight Side DANLY & CLEARING large Bed stamping presses get away. These have full Cushions, front to rear Bolsters, PLC controls, and more.... all meeting OSHA safety requirements. Power on inspections arranged. CLICK HERE for details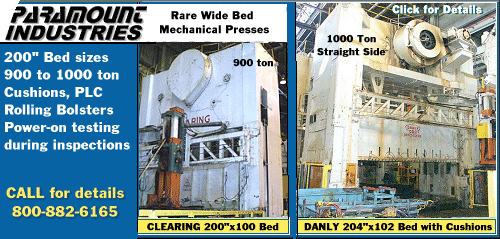 900 to 1000 ton Used Straight-side large Bed Mechanical Presses for sale
Danly Model S4-1000 QDC 204x102 and Clearing Model F-4-900-QDC 200x100 bed
* #100 Ton Minster PM3 * #1000 Ton Danly Press . Model# SE4-1000 * #1000 Ton Danly SE4-1000-108-84 * #1000 Ton U.S.I Clearing 4-Point Straight Side Presses * #300 TON MINSTER HEAVY STAMPER *#600 TON MINSTER HEAVY STAMPER SSDC PRESS * #800 TON DANLY S4-800 * #800 TON WARCO PRESS * #SE2-600-120 x 60 CMC-BLISS PRESS * #USI -CLEARING 600 Ton *
Newest listings of major brand parts stamping and forming hydraulic presses include the following:

750 ton Hydraulic Gap Frame rare straightening press and all supporting press equipment

500 Ton Baldwin 6-Post Up-Acting Hydraulic Rubber Press

USED KOMATSU MODEL C2S-2000-3TR 2,000 TON STRAIGHT-SIDE TRANSFER PRESS

500 Ton Columbia Hydraulic up acting hot oil plywood press

This 1963 1400 ton ERFURT eccentric straight side press is part of a complete forging press line offered for sale

Unique opportunity to own 5 complete working automotive industry stamping presslines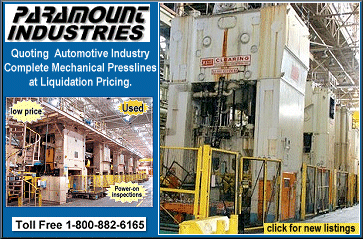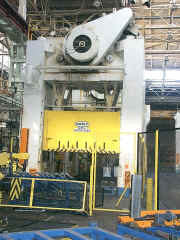 A major automobile manufacturer has contracted with Paramount Industries to liquidate all, or partial lots, of one of their local Detroit production plants. Power-on inspections now taking place for 10 major presslines of varying capacities, and all miscellaneous metal stamping equipment in this plant. This is a once in a lifetime opportunity to buy well maintained working metal stamping presses for pennies on a dollar invested by a big 3 auto manufacturer. Clearing, Bliss, Version, Danly stamping presses from 2000Ton to 400 ton capacities, with all OSHA inspected safety gear, controllers, conveyers and roll feeder equipment included. Click here to see all this automotive plant liquidation listings, photos and spec sheets.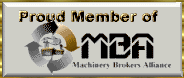 all rights reserved by Paramount Industries -08/21/12

site designs by webmaster Image Marketing Services