Office # 1-586-779-1788 Toll Free (800) 882-6165
The following Mechanical Industrial presses are in located in-plant within the Metro Detroit area. Several are in stock at our Mound Rd warehouse for your immediate inspection. Call or e-mail Ted Gillespie of Paramount Industries playing your bid and arrange inspections or request further details on these industrial grade stamping press listings. Click on photo link to see see a larger view of these used mechanical punch presses.

23 Hydraulic Compression Molding Presses from 500 ton to 2500 ton for sale at liquidation prices. (Shelbyville Indiana auto parts plant liquidation sale)


1500 ton Klockner Plastic Injection Molding Press (like new)


1000 ton Williams and White Hydraulic Presses for sale


2500 Ton HPM 4 POST Hydraulic Press -distressed sale price


5000 Ton Lake ERIE Triple Action Hydraulic Press


5000 Ton BLISS 4 POST Hydraulic Press at a liquidation price


660 ton PTC Straight Side Feed custom built press -special price


1500 Ton SAVAGE Traveling Gantry Straightening Press


800 ton Danly straight side 4 point presses (5 ea) for sale


8000 Ton AP&T Hydroforming frame Press -like new


2000 Ton HPM used Hydraulic Press at great price.


650 ton PACIFIC 4 post hydraulic press in excellent condition
Don't let these 2 Straight Side DANLY & CLEARING large Bed stamping presses get away. These have full Cushions, front to rear Bolsters, PLC controls, and more.... all meeting OSHA safety requirements. Power on inspections arranged. CLICK HERE for details
Paramount offers fee based services ranging from expert appraisels, auctioneering, plant liquidations, retrofitting, transporting and onsite rigging through our industry alliance members. Machine Brokers Alliance (MBA) members will have access to post here their want to buy or sell machinery lists and streamline transactions and communications between resellers- brokers- manufacturers- and industry specialists.
Click for

New Listings
Paramount Industries is pleased to announce the grand opening of their web site devoted to new and used capital equipment resellers, distributors and brokers. Our mission is to ease the procurement burden for both buyers and sellers of all types of industrial equipment by offering you a convenient online resource for browsing industrial machinery listings. Click here for

2000 Ton HPM used Hydraulic Press at great price.
Paramount Industries is accepting offers on five 800 Ton Danly Straight Side 4-Point Presses which may be of interest to your company. All 5 presses in this production line are available and may be sold individually or as a complete press line. All presses are in working condition.
Our reputation for servicing all aspects of our customers demands is exceeded only by our willingness to do it !!!

Our Office # 1-586-779-1788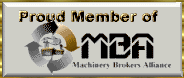 all rights reserved by Paramount Industries -08/21/12

site designs by webmaster Image Marketing Services