WE ARE PLEASED TO OFFER THE FOLLOWING SMC (sheet molding Compound) MACHINES FOR YOUR IMMEDIATE PURCHASING CONSIDERATION:
NEW in 2001- 1250 Ton KTM - NORAMEX rubber moulding press with Athena SRC and Yokagawa controllers
Photos of this KTM-Normex press are shown below.never used 60" Finn & Fram SMC sheet moulding machine -CLICK TO ENLARGE IMAGES. This sheet molding system has never been used in a production capacity. Call for all the details and pricing on this rare find. We also have several other rubber and composite molding presses in various tonnages. TechMachinery.com also carries used SMC machines and a variety if mechanical and hydraulic presses for sale at liquidation prices.
in on Photos

Fill out the below for for
more information on this press..

The following specifications apply to this Noramex press:

Working Dimensions:

Specifications on this 1250 Ton KTM-Noramex rubber press ..new in 2001 all systems in perfect working condition. This unit is immediately available and we can arrange shipping and rigging in the USA and worldwide.

Call Ted Gillespie 800-882-6165

---

Paramount Industries has partnered with Otoole Press for over 20 years to help industrial Equipment Buyers locate, purchase and arrange delivery on the best buys in used Hydraulic presses. We are a trusted source that knows true value in this highly specialized market. Please e-mail Ted Gillespie for complete details and pricing on the above listings or a complete fax list of available presses. Act now before it's gone!
Paramount Industries has over 75,000 square feet to serve our customers right in the heart of Metro Detroit's automotive industrial manufacturing center. Our service, staff and quality products continues to keep our customers satisfied during the entire sales process. Experience the difference when tapping into savings bu using Paramount's buying power today. Make your next production plant equipment purchase though our network of buyers and sellers.!

Click here to view details on this 660 ton PTC Straight Side Feed custom built press

PTC Straight Side Press specifications:
660 Ton total capacity
Press type: Straight Side Eccentric Gear
2 Suspension points
STROKE = 18" Adjustment of RAM = 12"
SHUT Height over Bolster (SDAU) = 42"
Opening through Columns = 70"
Ram Face area = 144" x 60"
Bolster Size 144" x 60" x 9"
Speed = variable 15-45 SPM
Full Work energy at 15 SPM = 370 inch tons
Single stroking Speed = 15 SPM
Est weight of Press = 265,000 lbs
Main Motor size = 100HP
Click for

New Listings
New offering: USED 2000 Ton Williams & White Hydraulic Press with 72" Stroke - 100" Daylite - 120" x 96" Platen and all controllers and safety equipment... call for liquidation price on this and the Ficep Screw Press shown below.
Zoom Image

Rare offering in a used screw press... 2500 Ton Ficep Screw Press with 400mm diameter Screw capacity. This one is outfitted with hydraulic upper and lower ejectors and has optional die heater unit. FICEP SPA designs, manufactures and sells worldwide CNC controlled machines & systems for the steel construction and forging industries.

Model 400

FICEP PVM

Screw diameter
mm
400
Nominal force
kN
16000
Max. allowed
force continuous
operation
kN
32000
Net energy
Nm
190000
Weight
ton
120
Used FICEP Medium ton screw press with narrow distance between the side frames. These tie rods assembled machines are very sturdy and fast presses, suitable for the forging and coining of mechanical parts of medium-small size, ferrous and non ferrous material. Optional Maestri chain type Oven for forging billets is also available. Call for Ted Gillespi for equipemnt pricing, further spec details, photos and included accessories on any used plant production equipment shown at this site.
Unique opportunity to own 5 complete working automotive industry presslines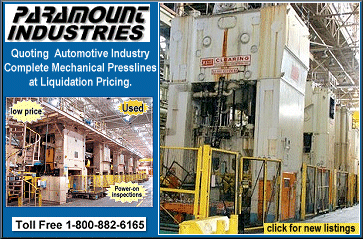 A major automobile manufacturer has contracted with Paramount Industries to liquidate all, or partial lots of one of their local Detroit production plants. Power-on inspections now taking place for 10 major presslines of varying capacities and all miscellaneous metal stamping equipment. This is a once in a lifetime opportunity to buy well maintained working metal stamping presses for pennies on a dollar invested. Click here to see all this automotive plant liquidation listings, photos and spec sheets.
---
Don't let these 2 Straight Side DANLY & CLEARING large Bed stamping presses get away. These have full Cushions, front to rear Bolsters, PLC controls, and more.... all meeting OSHA safety requirements. Power on inspections arranged. CLICK HERE for details

Offer To Purchase Agreement | Listing & Brokerage Agreement | Information Request Form | Want To Purchase