Mr. Ted Gillespie founded Paramount Industries in 1989 in order to further his life long career within the machinery industry. Leveraging his purchasing experience and business alliances with companies like Metro Industries Inc. and all major equipment suppliers to the automotive industry, helped Ted develop the financial backing and credibility that only comes from satisfying client requests.
By pooling the purchasing power of Paramount Industries with various equipment liquidators and auctions houses we are able to move immediately on offers accepted by sellers. We also arrange brokerage and appraisal services to assist you in selling a single machine or a complete plant. You can trust Paramount to find qualified buyers worldwide and complete the sale. We offer to act as your "buyers' agent" on any industrial equipment purchase.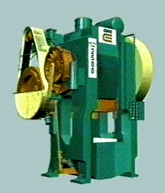 Our MISSION.. too expand on our commitment to provide the metal working industry the best in machinery at liquidation prices, while acting a a trusted source for both repeat buyers and sellers. Paramount Industries will also develop this site to service clients worldwide and promote Machinery Brokers Alliance (MBA) servicing all your equipment needs ...around the clock and around the world.

Ted Gillespie -president